Who We Support - #CookiesForACause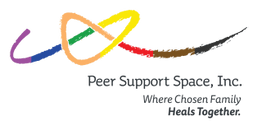 This September, we are proud to support Peer Support Space.
Peer Support Space is a 100% peer-led organization based out of Central Florida. PSS offers cost-free support services and community-led events. PSS uplifts marginalized voices within the community and has created an outlet that focuses on trauma, grief, disability, neurodivergence, and wealth disparities. This informed method is then capable of compassionate healing through genuine connection. 
Coping Cookies is proud to support this organization's mission and their core values (utilized from their website):
Advocacy:
 Challenging oppressive, discriminatory systems and educating for the advancement of those with obstacles to mental wellness.

Hope: Reminding folks that they are not alone in their struggles.

Inclusivity: Intentionally creating spaces that welcome those of all sexual orientations, genders, ages, and disabilities as well as those with diverse neurological, racial, religious, and cultural backgrounds.

Innovation: Using evidence-based research while still pushing limits to be creative in building new ways to educate, advocate, and achieve mental wellness and advocacy.

Leading with Love: Intentionally practicing radical kindness and compassion in leadership and in their interactions with others.

Mutuality: Striving for collaborative, empathetic relationships where everyone matters; everyone is equal.
Self-determination: 
 PSS honors that every individual is their own expert and has the right to make their own choices and control their healing including how they explain, understand or address their lived experience, mental health and identities.
A portion of this month's proceeds will go directly to them and their work.